As you prepare to take your certification exam, please explore the important information and links provided on this page. This content is designed to support you in reaching your certification goals.
For detailed testing information, visit our Documents and Handbooks page to access the Certification Exam Policy Handbook and the exam handbook for your specific certification program.
Testing Options
AACN Certification Corporation offers two computer-based options for taking your certification exam. Compare Options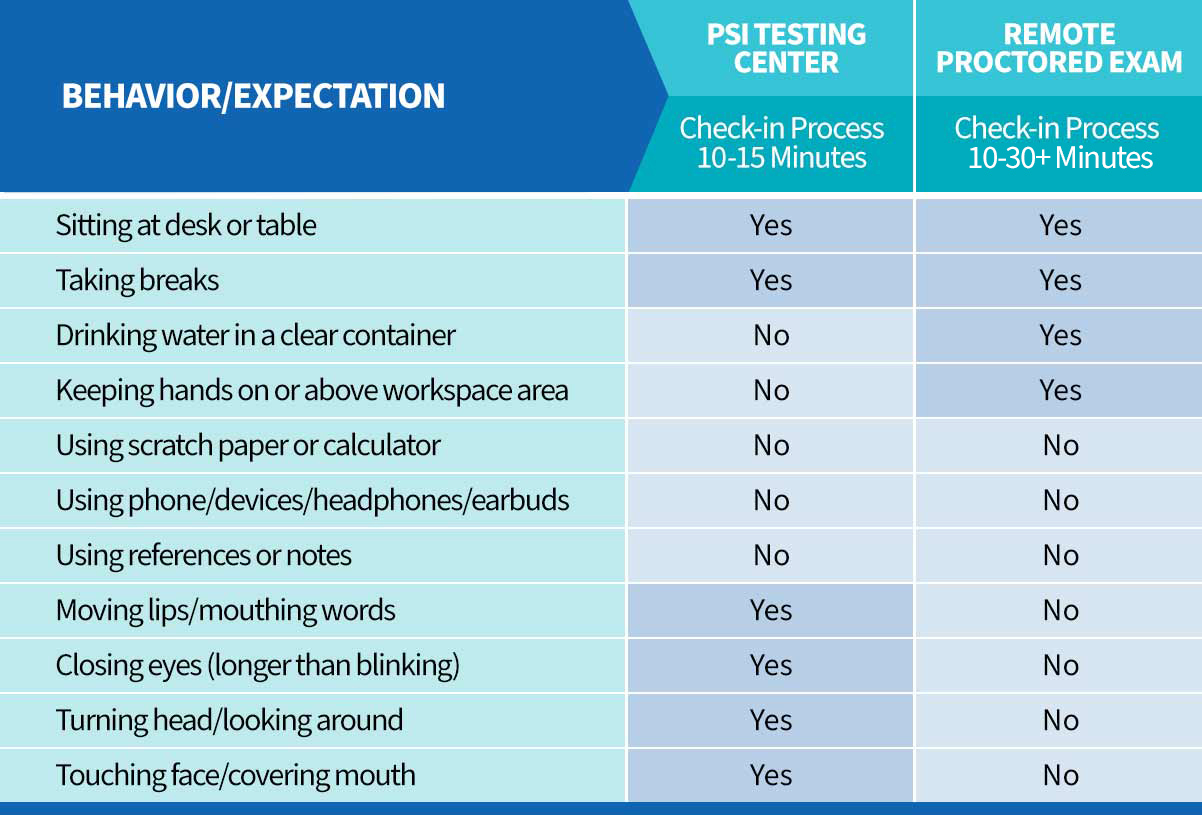 Scheduling Your Exam
Learn how to reserve a date for your certification exam and understand related scheduling policies.
Additional Information
The following information addresses important policies and commonly asked questions about taking your certification exam.
ADA Accommodations
AACN Certification Corporation is committed to ensuring that no individual is deprived of the opportunity to take the exam solely by reason of a disability or impairment. Testing accommodations will be considered for individuals with a disability or impairment who submit a Request for Exam Accommodations form in advance. Only candidates approved by AACN Certification Corporation will receive testing accommodations.
Documentation and verification of your disability or impairment from a licensed professional must be submitted with your exam application.
Testing accommodations ― such as additional testing time, readers, sign language interpreters or scribes ― require advance approval.
Every testing center is fully accessible and compliant with the Americans with Disabilities Act (ADA).
If testing via live remote proctoring, the following accommodations are not available: paper and pencil, reader, sign language interpreter or any software such as zoomtext/JAWS.
Appointments for testing with accommodations are scheduled through PSI directly, not through AACN online scheduling.
Comfort Aids such as specific medicine and medical devices including those attached to a person's body, communication aids, mobility devices and service animals do not require pre-approval. For more details, refer to Pre-approved Comfort Aids. Test Center Administrators and online proctors will perform a visual inspection of the aids prior to testing.
Exam Discounts
AACN Certification Corporation offers discounts for groups of certification exam applicants who apply together and for employers or AACN chapters who purchase certification exam vouchers in bulk.
Testing Outside the U.S.
Individuals residing outside the U.S. may apply to take their exam at a military testing site or select non-military sites.
An additional exam fee may apply.
For international testing inquiries or to request a special application, please contact AACN at certification@aacn.org.
Paper-and-Pencil Testing
Paper-and-pencil ("paper") exam sessions are available for groups of nurses testing at the same time. For information, email AACN at certification@aacn.org.
Requests for paper exams must be submitted in writing at least four months before the exam date.
All completed applications and appropriate fees must be submitted eight weeks prior to the confirmed exam date.
Additional site fees may apply. Group Discount pricing does not apply to paper exams.
Results are mailed to candidates six to eight weeks following paper exams.
Candidate Feedback
Exam candidates may provide feedback about individual exam items and/or their testing experience during and after the exam.
You may provide comments for any exam item during the exam by clicking on the COMMENT button.
You will not be permitted to review exam items after completing the exam.
Upon completion of the exam, you may complete a short survey about your exam experience.
You may also email feedback about your exam experience to certification@aacn.org.